Extremely good performance and effects in processing placer of beach, riverside, seashore and stream.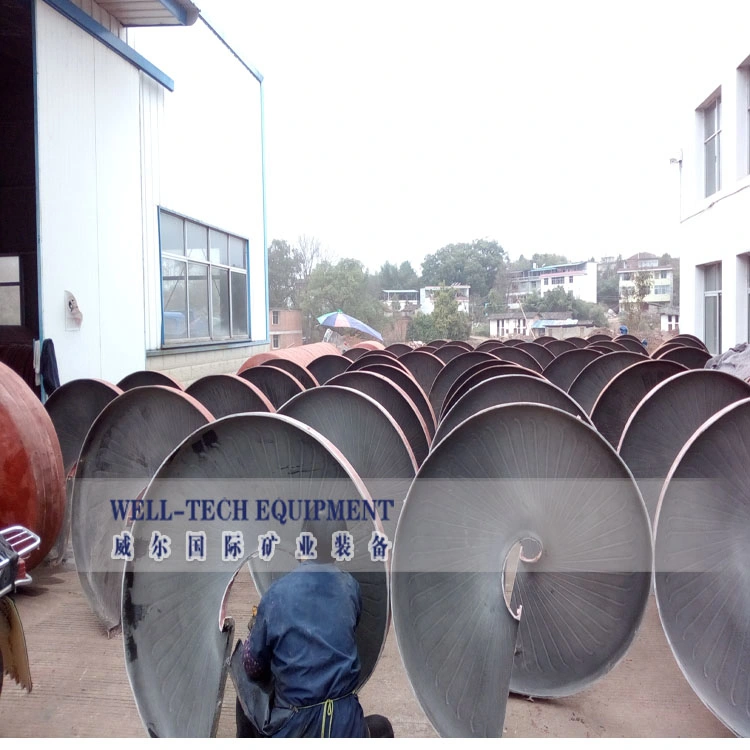 Applications
It has been used in to enrichment the particle size 0.3-0.02 millimeters fine grain like iron, tin, chromite, ilmenite, tungsten, zinc, tantalum-niobium, gold, coal , monazite, rutile, zircon and other low-grade ores. The non-metallic minerals which have a big enough specific gravity difference.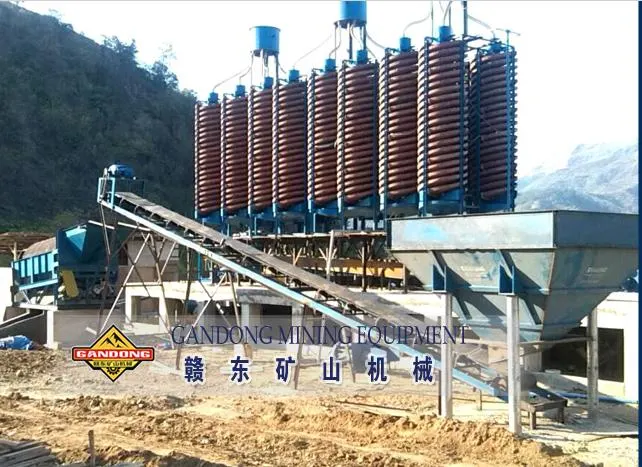 Features
u Reasonable structure and small area occupation
u High recovery, high efficiency, and precise separation
u Non-required power
u Light in weight, anti corrosion, rust and wear resistant
u Simple installation and Minimal maintenance requirements
u Low operating cost and long working life
u Reliable running with minimal operator attention
u Strong adaptability to fluctuation of feeding amount, density, size and grade
u The surface of emery forms strong friction the concentration effect surpass plastic surface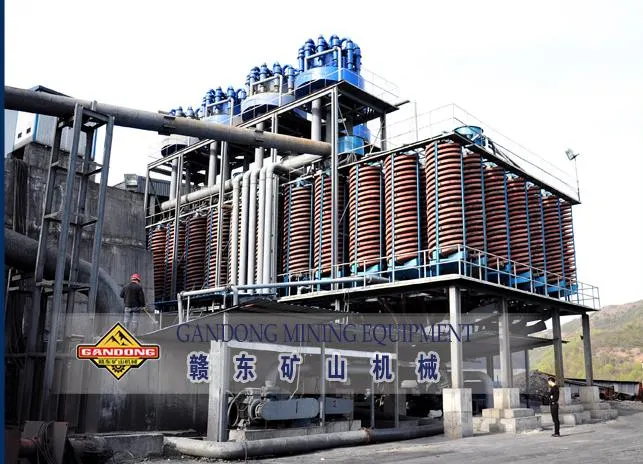 Descriptions
Spiral concentrator is our company's concentrating experienced scientific product, which is the best concentrating equipment, especially for concentrating sand ore in beach, riverside, seashore and stream.
The product is made of the fiberglass lined with wear-resistant resin and emery cover; the advantages are light, moisture proof, anti-rust, wear proof, anti corrosion and no noise, properly suitable for the different feeding particle sizes and grades. It is the domestic advanced level, the new highly effective equipment.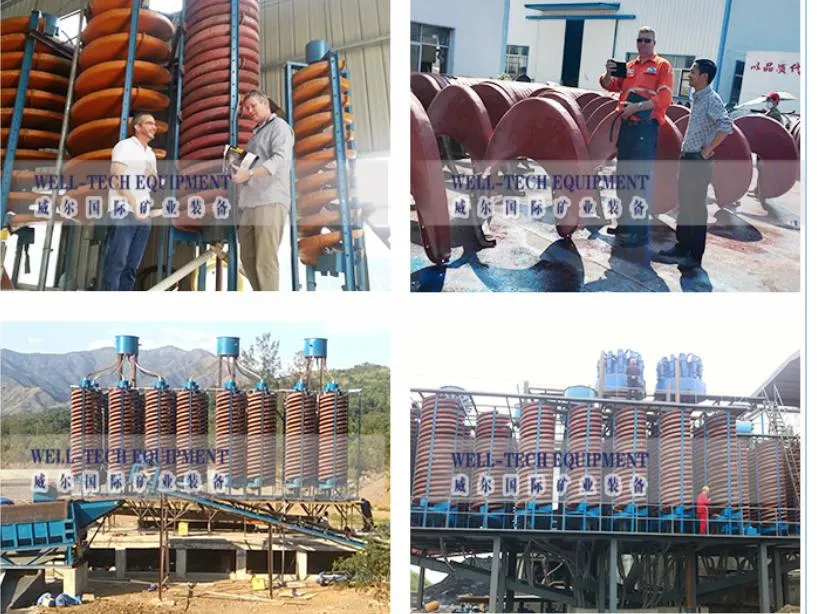 Technical Specifications
our company uses the newest design and a complete set of technology organization produced and strict quality testing to guarantee each specification of spiral separator qualified.

Specification
5LL-2000
5LL-1500
5LL-1200
5LL-900
5LL-600
5LL-400
Spiral Diameter(mm)
2000
1500
1200
900
600
400
Spiral Pitch(mm)
1200
720/540
900/720 /540
675/540 /405
450/360 /270
240/180
Ratio of
Pitch To Diameter
0.6
0.48/0.36
0.75/0.6 /0.45
0.75/0.6 /0.45
0.75/0.6 /0.45
0.6/0.45
Lateral Obliquity
9°
9°
9°
9°
9°
9°
Starts
3
4
4
4
2
2
Feeding Sizes(mm)
2.00-0.04
0.8-0.037
0.3-0.03
0.3-0.03
0.2-0.02
0.2-0.02
Feeding Density (%)
30-55
30-60
25-35
25-55
25-55
25-55
Capacity(t/h)
7-10
6-8
4-6
2-3
0.4-0.8
0.15-0.2
Dimension
(mm)
Length
2120
1600
1360
1060
700
460
Width
2120
1600
1360
1060
700
460
Height
5600
5300
5230
4000
2600
1500
Weight (kg )
900
800
600
400
150
50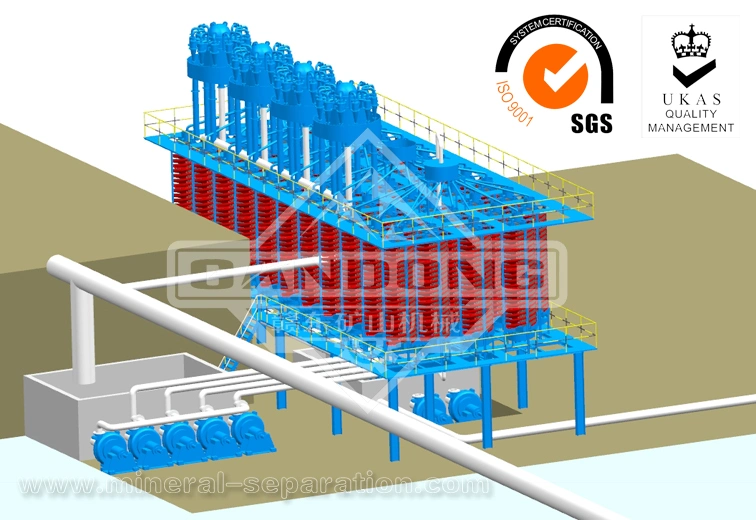 Why choose our company machine?
1. We are factory (NOT Dealer)
All machinery from Well-tech international equipment Mining Machinery Manufactory are made by ourselves, No trade company make
Commission(many trade companies do not produce the machinery),the lower price with the same goods, good quality, after service can be assured (after service of trade companies will get help from factory).
So please buy from factory
2. We will do our best to satisfy every customer's needs
Producing high-quality and reliable machines is our first priority, because we know that our success depends entirely on the satisfaction of our customers. We never give-up quality to save cost.
3. Training & service
Training is FREE to every customer. Whenever you need us, for installation, maintenance, or proper use of our company machines, we will be right there for you. In addition, we provide one-year warrantee to make sure your machine runs consistently. We always keep certain inventory level of spare parts, which means the replacements can be shipped to you right away.
4. If you are new for this business, I will help you
Many thanks for your trust; we can provide you with the pre-services of design scheme for complete production lines, spot inspection and operator training according to your demands and the conditions of applied spot, we can help you choose the right equipments, drilling rig, Loader, trucks, excavators and so on
5. We will recommend a suitable type for you and send you a best quotation
Our Services
1) Pre-sale service: Freely provide project designing, process designing, choosing suitable equipment for you.
2) Medium-sales service: Accompany you to complete the acceptance of the equipment, draft the construction scheme and detailed process, and complete process of export
3) After-sales service: We sent engineer to the scene to guide installation, debugging and training operators.
If you are interested in our products, Please through below method contact us, or welcome come to our factory visit!